Anyone who has come by to visit the brewery on the weekends has likely met our talented brewmaster Ed Koren Ed makes all of our historic beer on site with care and attention to detail.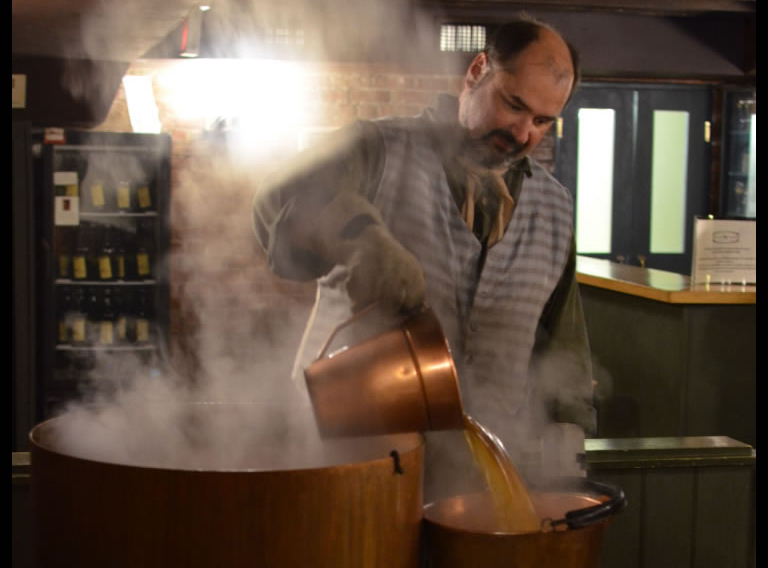 If you've ever talked to Ed about out historic beers, you'll find he has a wealth of information about technique as well as the history of beers and brewing in Ontario. However, Ed doesn't just get questions about the beer – many visitors are curious about the person behind the beer.
Here, from the Black Creek Brewery blog,  is an interview with the brewmaster himself.
---
Q: So Ed, how did you end up becoming the brewmaster at the Black Creek Historic Brewery?
A: There was an email sent to my beer club back in 2009 looking for brewers to work at Black Creek Pioneer Village. Since I lived relatively close, I thought I'd give it a shot. At first there were four [brewmasters] working part-time. The following year, they invited me to brew here full time.
Q: What started your interest in brewing?
A: Ever since I can remember, I've been making wine, cider, and mead, but I was always afraid to make beer. I thought it was hard to make. People would give me bottles of homebrew, and it was always bad! Because of that, I always wanted to stay away from beer.
Then one day I saw malt extract at Costco, and I thought I'd give it a shot. I went home and brewed, and that initially got me interested. After that, I picked up some books, and it progressed to brewing on the kitchen stove. Then I started with all grain, and I never looked back.
I began brewing every weekend as a homebrewer, and I began to enter competitions. Me and my best friend entered some contests, and we were both co-winners of the Canadian Amateur Homebrewer of the Year award.
Q: What is your favorite part of being brewmaster at the Black Creek Historic Brewery?
A: Probably watching people's reaction when they try this beer. Especially the people who don't normally drink beer. These beers are different from a modern beer – not filtered, not pasteurized, naturally carbonated, and served at cellar temperature.
Q: How much beer do you make on the weekends when you brew?
A: Between 70 to 75 litres of finished beer.
Q: What is the most interesting historical fact about beer you've learned since becoming the Brewmaster here?
A: Probably the fact that people didn't drink beer socially, but as an alternative to water. A lot of people assume that people back then [in the 1860s] drank beer just because that's what they liked. But it was because the beer was safer than the water.
Also, back when the City of Toronto was called York, it had a population of 50,000 with 16 breweries in downtown York. There was lots of beer being consumed back then.
---
If you're interested in learning more about Ed and his technique, come by the brewery or check out our opportunity to brew with the brewmaster as an apprentice.