Imagine the rumble of the millwheel at work, examine the enormous wooden gears and see how a grist mill worked in 1860s!
Gristmills turned by water have been around for many centuries, some as early as 19 BC. In North America they were becoming quite common in the 1840s. Millers have made a pretty fair living by charging a portion of the grain as payment for their labors.
Once the grains were ready for grinding, the farmer and often his family would pile them into a cart or wagon and drive to the mill. The miller would take his percentage before grinding was started. Then the containers of grain would be unloaded onto the mill floor and transferred into the grain hopper. When the grinding was finished the meal had to be put into containers and reloaded for the return trip home.
Many families made a social event of it.
Perhaps much of the day would be spent there with the grownups visiting and the children playing around the millpond, chasing ducks or otherwise entertaining themselves. Likely mom would have packed a picnic lunch and perhaps there would be a visit to relatives or friends on the way home. Most of the millers would have been friends or relatives and during the unloading of the wagon, the news and gossip of the area would be exchanged. Other community members would be "hanging out" at the mill.
The major parts to a gristmill: the raceway, water wheel and grinding stones
The raceway channels the flowing water to the wheel. The water forces the wheel to turn.
The turning wheel powers the grinding stones by a series of gears and shafts. The gear mechanism that caused the grinding stones to turn varied. Mostly there was a gear attached to a shaft turned by the water wheel. Additional gears and pulleys turned the grinding stones.
The grinding stones were mostly granite and purchased from afar. Each stone weighed from half a ton to over 2 tons and had to be lifted each year to be refaced. The wear on the grooves must be carefully repaired so that grains would be ground to the correct size. Uneven runner stones would also damage the underlying or "bed" stone. Stones were arranged so that the miller could raise them up or let them down to control the fineness of the product.
Where Roblin's Mill originally located
Original location: Ameliasburg, Ontario (Prince Edward County)
Roblin's Mill was built in 1842 by Owen Roblin, the grandson of a United Empire Loyalist. When purchased by the Metro Toronto and Region Conservation Authority, the mill was scheduled for demolition. The original timbers, flooring and machinery were salvaged and moved to Black Creek Pioneer Village in 1964.
Compare how Roblin's Mill has been changed from the one at the original location: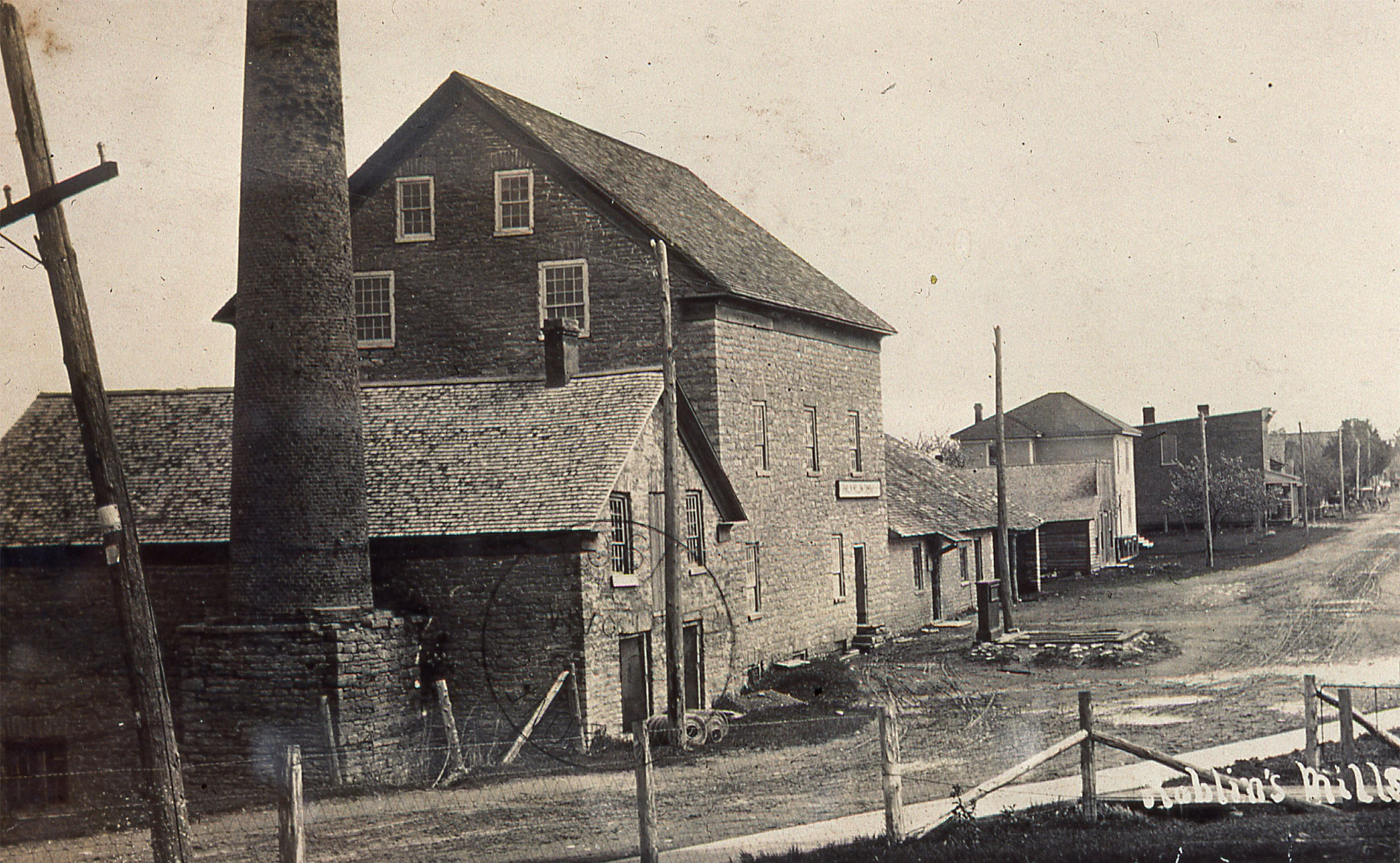 Do you know the area? Guess where is the original location from this archived map: