In honour of National Indigenous History Month in June, we are showcasing Indigenous organizations and artists that have worked with The Village as part of our Changing the Narrative initiative, and highlighting important Indigenous historical figures.
Edge of the Bush
Nanaboozhoo! Biindige Maampii Wiigiwaaming!
"Greetings in the name of Ojibwe first teacher! Come into the bush shelter!"
This Ojibwe Wiigiwaam at The Village was built in partnership with Edge of the Bush and the teachings of Dr. Hopi Martin, and reminds us of the enduring presence of Indigenous peoples on the lands.
A Wiigiwaam can be a shelter, a home or place of learning. This ceremonial Wiigiwaam is built here at the edge of the bush, between settlers and Indigenous peoples, to extend its teachings to all who enter.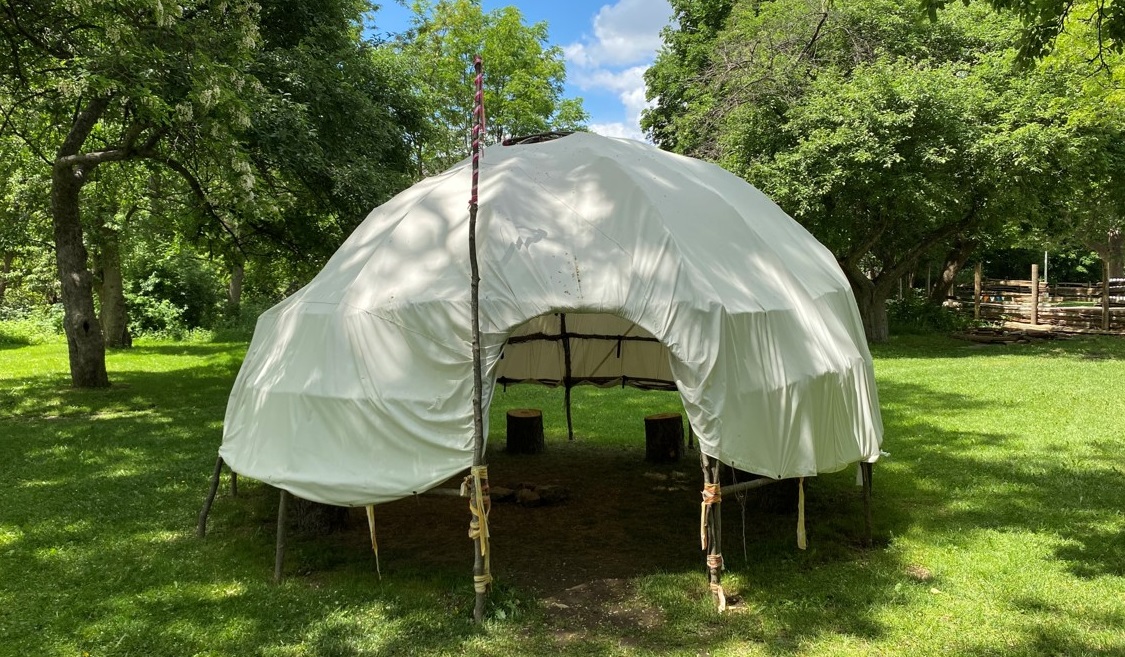 Wiigiwaams are traditional, seasonal dwellings that were used by many Indigenous Peoples. They are ideal for nomadic communities as the dwelling is easy to assemble and disassemble.
To learn more about Wiigiwaams and how they are used for land-based Indigenous teachings, please visit: The Wiigiwaam (Ojibwe Bush Home) – Edge of the Bush.
Tracey-Mae Chambers: Hope and Healing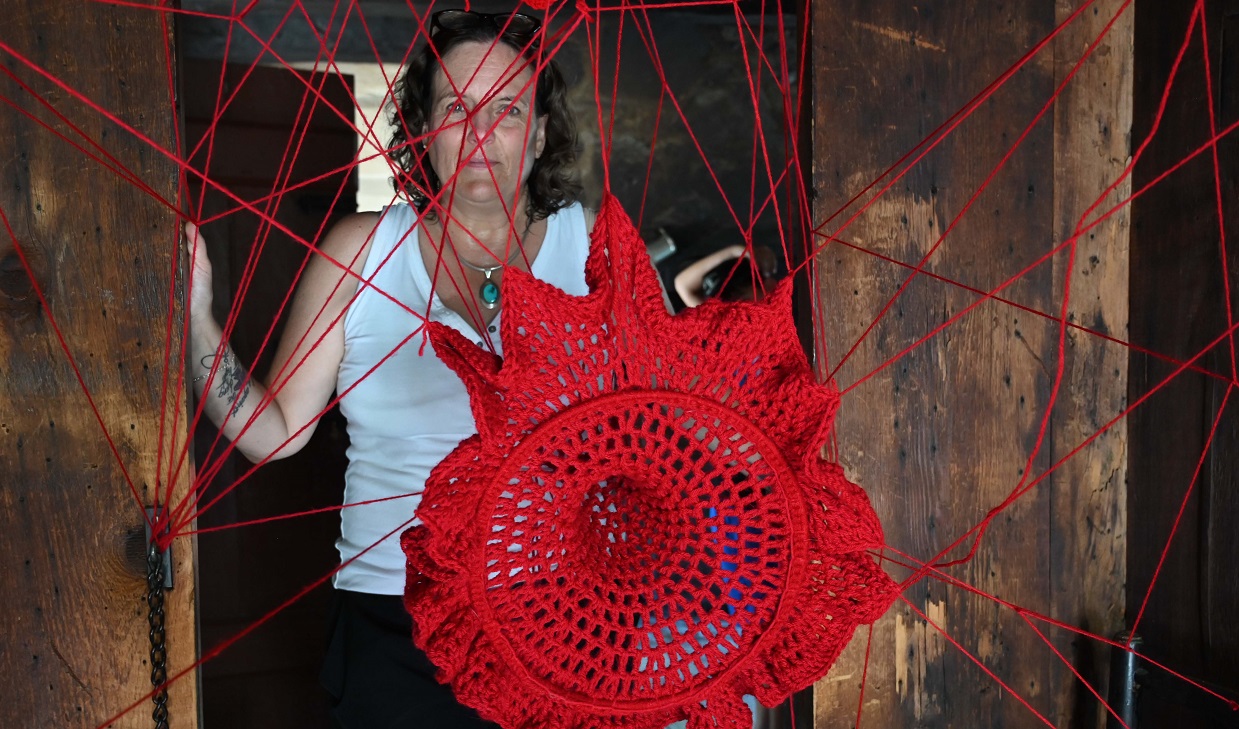 Tracey-Mae Chambers (pictured above) is a Métis artist who has created site-specific installations, called Hope and Healing, at locations across Canada – including The Village.
These installations are made using crocheted, knitted, and woven red yarn. Her ongoing body of work is used to illustrate connections between Indigenous, Inuit, and Métis peoples with Canadians, while also addressing the decolonization of public spaces.
Weavings from Tracey-Mae Chambers' most recent installation at The Village are on permanently display at the McNair Gallery in the Visitor Centre.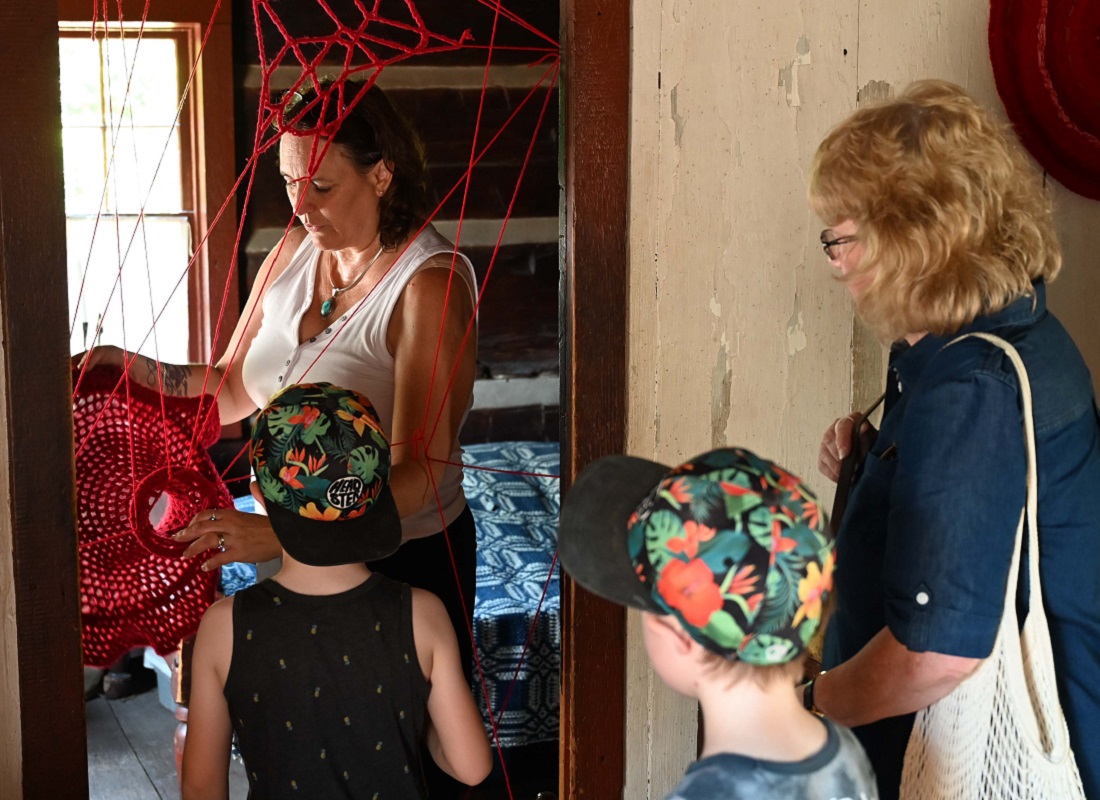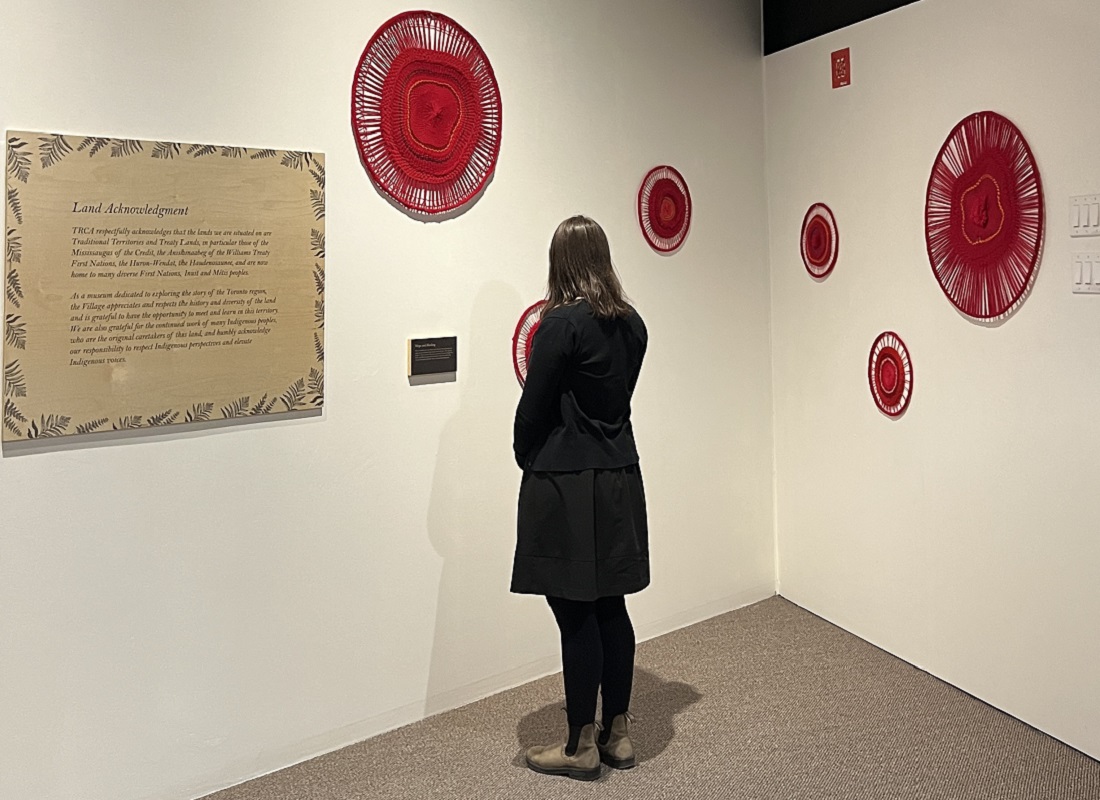 To learn more about Tracey-Mae Chambers' Hope and Healing installations, please visit traceymae.com.
Moccasin Identifier Project
The Moccasin Identifier Project is an initiative launched by Carolyn King, former Chief of the Mississaugas of the Credit First Nation, to promote public awareness of Indigenous culture on the landscape through site installations of moccasins, and to develop a network of knowledge for the benefit of truth and reconciliation.
The Moccasin Identifier Project has partnered with The Village as a participant in our "Walking Together" education workshops, teaching students how to create a moccasin stencil and explaining the meaning of the installation.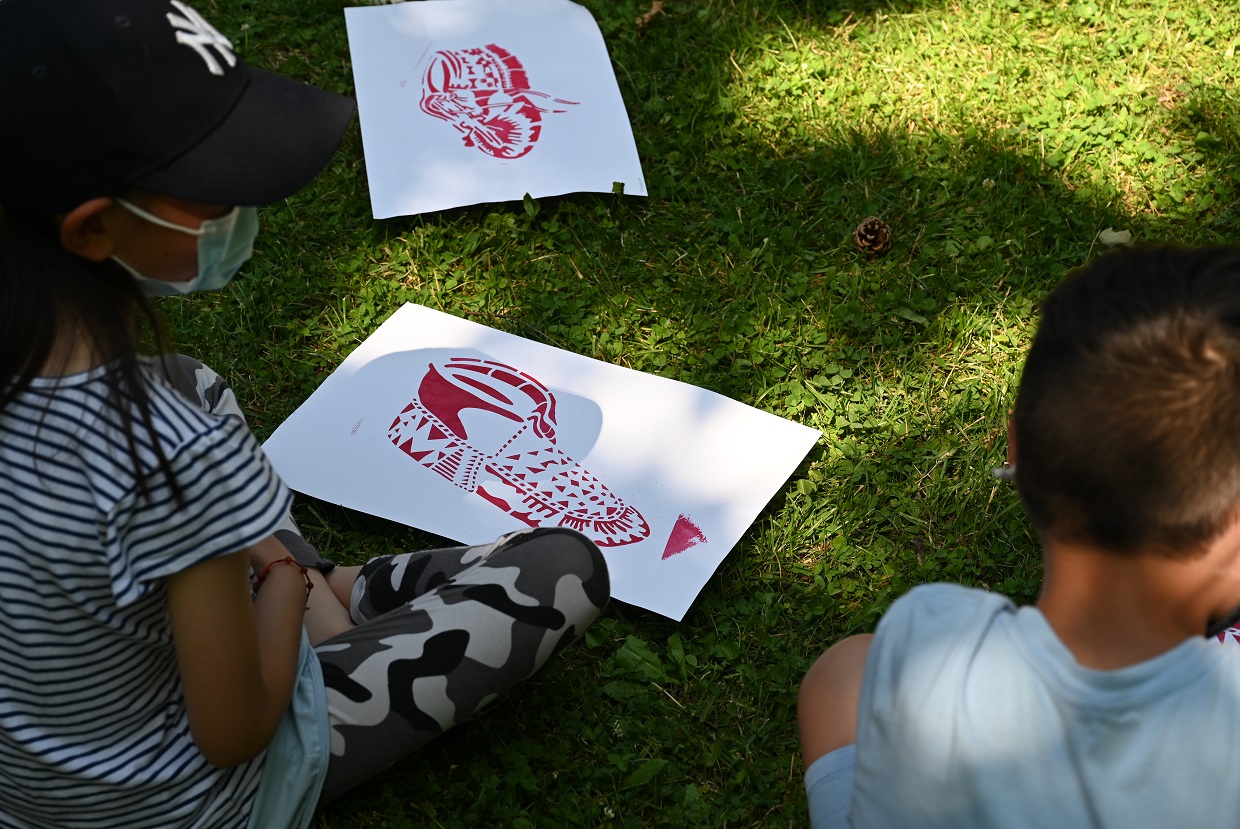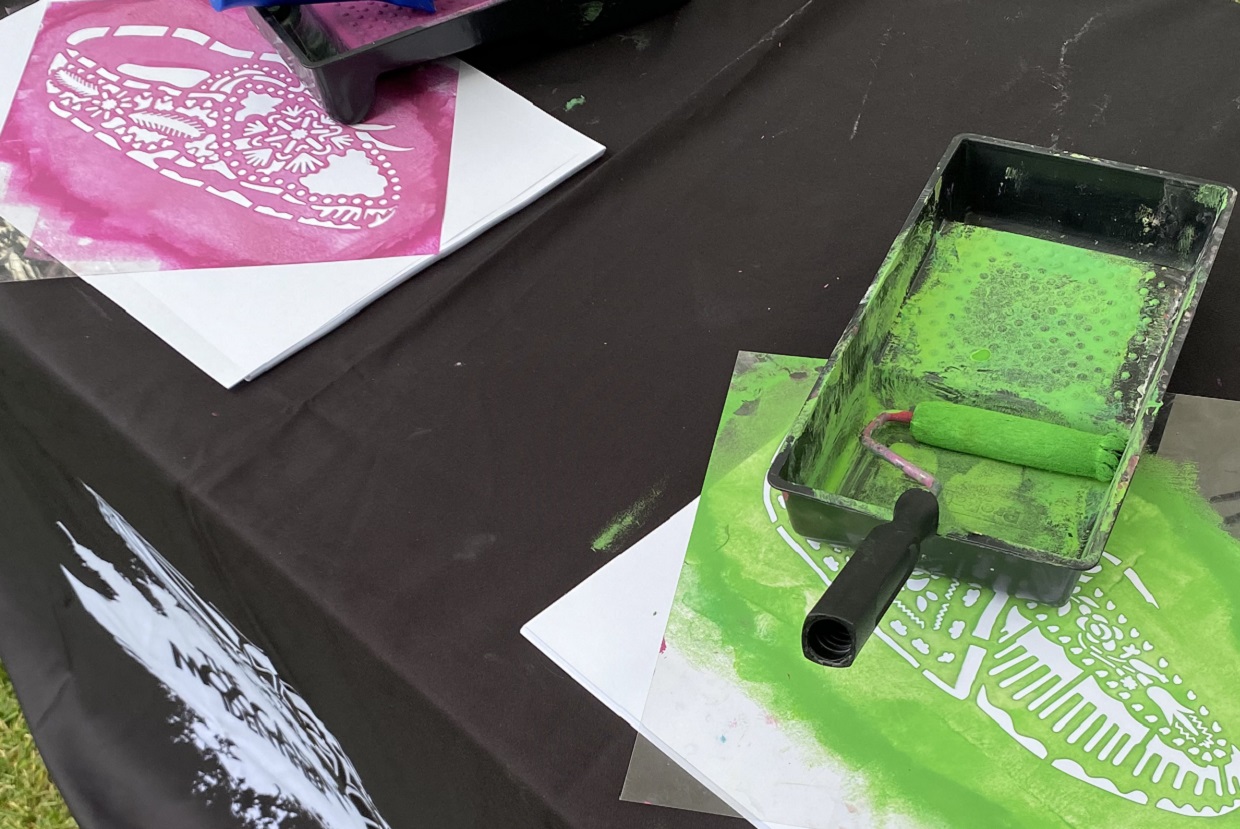 To learn more about the Moccasin Identifier project, please visit moccasinidentifier.com.
Talking Treaties Collective: A Treaty Guide for Torontonians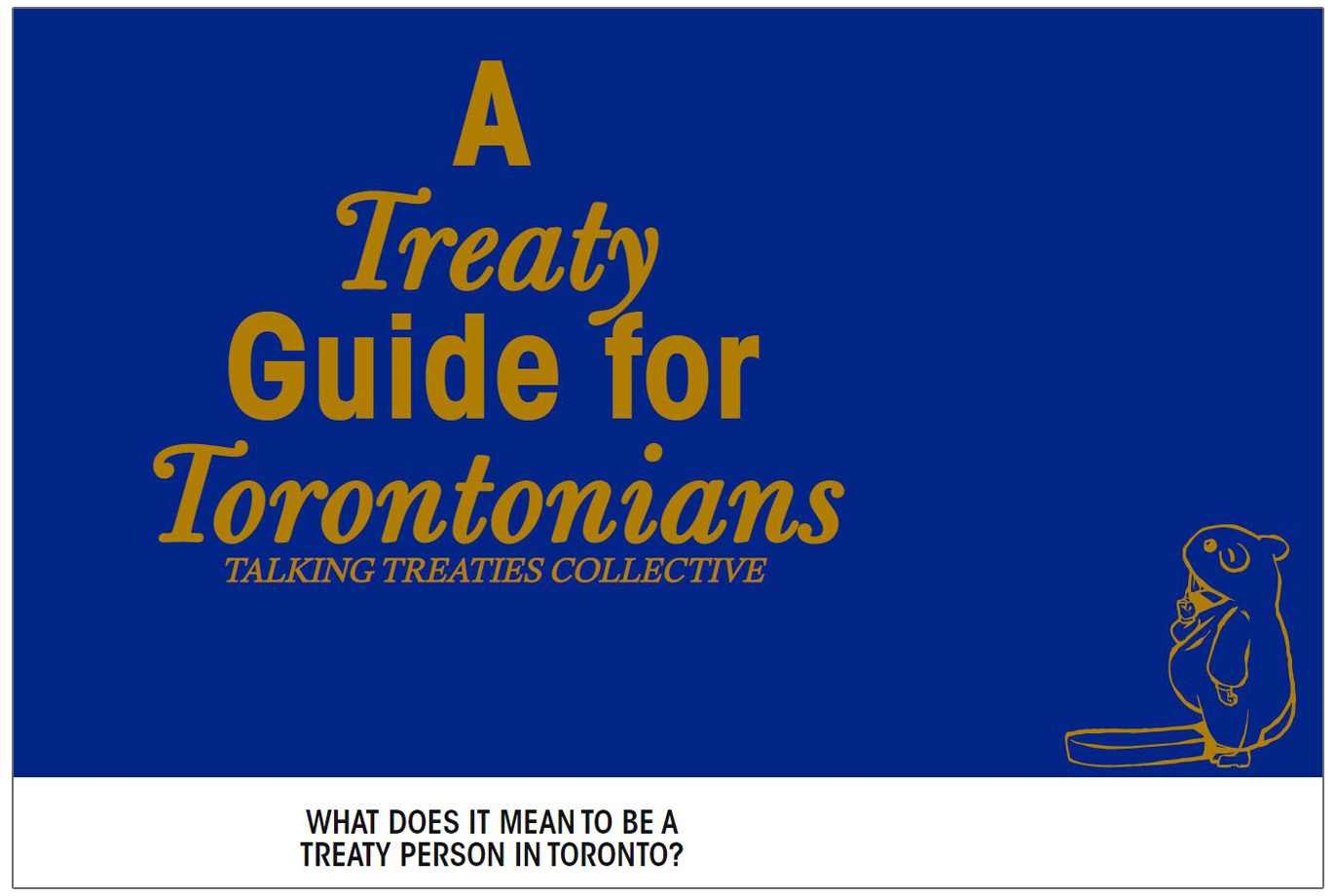 A Treaty Guide for Torontonians is a book created by Ange Loft, Victoria Freeman, Martha Stiegman, and Jill Carter. They came to write this book in an effort to better understand their relationship to the land.
A Treaty Guide inspires an active approach to treaty awareness through embodied learning tools. Land-based activities, theatrical exercises, and drawing and writing prompts help readers to find their own relationship to this history, and to take up their treaty responsibilities in the present.
The book can be purchased here. Many of the resources, including interactive maps and audio recordings, are available at talkingtreaties.ca.
People to Know
As a living history museum, it is important for us to bring Indigenous stories, which have historically been underrepresented, to The Village.
These are just a few of the millions of Indigenous peoples who have fought to protect and better their communities:
Nahnebahwequay (Catherine Bunch Sonego)

Nahnebahwequay (Catherine Bunch Sonego) (1824-1865) was an Ojibwe activist, writer, and Methodist missionary, born at the Credit River in 1824. She was baptized as Catherine Bunch in 1825.

During her early years she lived at the Credit Mission Village in what is today the City of Mississauga. In 1839, she married William Sutton, a Methodist minister.

She fought against colonial policies, which dispossessed First Nations Peoples from their lands and took Indian status from them for marrying a non-status man. She was appointed by her community to petition the British Crown in 1859 and raised awareness on newspapers through public lectures on her journey to England.

Learn more about Nahnebahwequay.

Image courtesy The Grey Roots Archival Collection.
Mary Two-Axe Earley

Mary Two-Axe Earley (1911-1996) was a Mohawk elder and human rights activist who fought for the rights of Indigenous women in Canada.

She grew up on the Kahnawà:ke reserve, a community adjacent to the St. Lawrence River, on Montreal's south shore. The Kanien'kehá:ka are members of the Haudenosaunee Confederacy (Six Nations or Iroquois Confederacy).

Her tireless efforts resulted in the passage of the Indian Act Amendment in 1985, which restored the status of thousands of Indigenous women who had lost their status.

Watch the short film Mary Two-Axe Earley: I am Indian Again.

Image courtesy Creative Commons.
Dr. Oronhyatekha "Burning Sky"

Dr. Oronhyatekha "Burning Sky" (1841-1907) was a Mohawk physician and a trailblazer in many fields. He grew up on the Six Nations of the Grand River reserve near Brantford, Ontario.

He was the first Indigenous person to receive a medical degree from the University of Toronto, as well as the first Indigenous person to be elected as a member of the Royal Society of Canada.

He was also a philanthropist, a leader in the fraternal organization of the Independent Order of Foresters, and an advocate for the rights of Indigenous people.

Learn more about Dr. Oronhyatekha.

Image courtesy the Deseronto Archives.
Frederick Ogilvie Loft

Frederick Ogilvie Loft (1861-1934) was a prominent Mohawk chief, activist, war veteran, and author who grew up on the Six Nations of the Grand River reserve near Brantford, Ontario. He was an early advocate for Indigenous rights and sovereignty.

Prior to fighting in the World War I, Loft moved to Toronto and began work as an Indigenous advocate, while working as an accountant. He wrote many proposals during his early career, one suggesting that the Ojibwe and Haudenosaunee come together to join a new pan-Indigenous organization.

Loft's early advocacy work would later have him found what he called the League of Indians: a group he envisioned as advocating for Indigenous rights in Canada.

Although the League of Indians was short-lived, it is now regarded as a precedent for other nationwide Indigenous political organizations.

Learn more about Fredrick Ogilvie Loft.

Image courtesy of Six Nations Legacy Consortium Collection, Six Nations Public Library.
Want to learn about Indigenous inventions and discoveries? View our online exhibit.