As Black Creek Pioneer Village reopens, we ask that you work with us to keep our site safe for your family, other visitors, and our staff.
Please read our Visitor Protocols and arrive prepared for your trip back in time to the 1860s.
Before you visit the Village, we ask that you complete the Ontario Ministry of Health self-assessment for COVID-19. If you are not feeling well, please visit us another day.
HEALTH & SAFETY
Do I need to wear a mask?
Yes, please!
It is mandatory to wear a mask inside a public space. You must wear a mask while in the Visitor Centre and in the heritage buildings. Limited exceptions apply.
Forgot your mask? We'll have some available to purchase on arrival.
Our staff will be wearing masks too while they are in public areas. We want to keep everyone safe!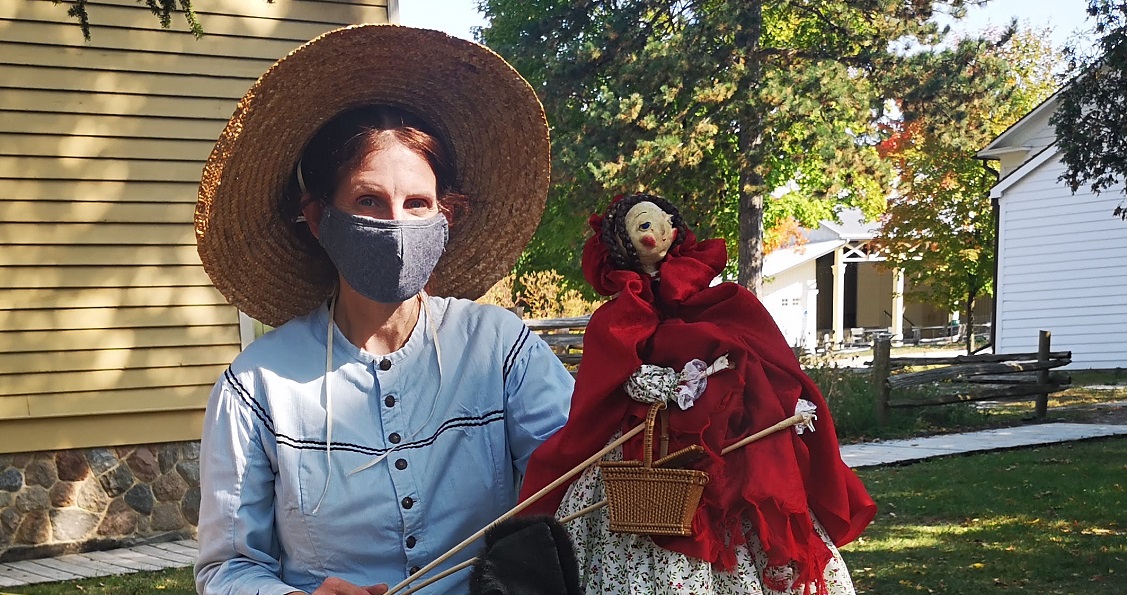 What are you doing to enhance cleaning and sanitization?
Black Creek Pioneer Village has implemented the following measures:
High-touch surfaces are cleaned frequently through the day.
Hand sanitizer and handwashing stations are available throughout the site. Please expect to wash or sanitize your hands when you enter and throughout your visit.
Point-of-sale systems are sanitized after every use.
Washrooms are cleaned and sanitized regularly throughout the day.
ARRIVAL & PARKING
There is an arrival time on my ticket. When should I arrive?
Our programs begin promptly at the time listed on the ticket. Plan to arrive 10 to 15 minutes in advance of your ticketed time in case there is a queue.
I am a Conservation Parks or Black Creek Pioneer Village Member. Do I still need to schedule my visit in advance?
Yes. We are currently only open for Guided Family Experiences. Walk-in visitors will not be admitted. In order to provide a safe experience for everyone, we need all visitors to schedule their visit in advance.
Do I need to print my ticket and bring it with me?
You can show us a printed version of your ticket or a digital version on your device.
Our staff won't touch your ticket, but they do need to see the details so they can cross-reference your arrival with our list of visitors for that time slot.
How do I register when I arrive?
Please join the physically-distanced queue leading to our Admissions kiosk.
When it is your turn to register, a staff member will call you forward. We'll ask to see your ticket and will ask you some health screening questions.
Please be patient if you have to line up. Our staff are working as quickly as possible to help you start your time in the Village while ensuring the safety of all our visitors.
How do I pay for parking?
You have the option to pay for your parking when you purchase your ticket to Black Creek Pioneer Village.
When you arrive, please take a ticket from the machine and bring it in with you to the Admissions kiosk. Our staff will then confirm payment and validate your parking ticket.
If you prefer to pay for parking upon arrival, please take a ticket from the machine and bring it with you to the Admissions kiosk
After we verify your admission ticket, we will charge you the discounted parking rate for visitors to Black Creek Pioneer Village ($7.60 + HST).
Will you accept cash?
We are accepting payment by debit or credit only at this time.
EXPERIENCING THE HERITAGE VILLAGE
Is there a route through the village? Will I receive a map?
You can view a copy of the Village map on your mobile device.
Select image below to view full-sized map.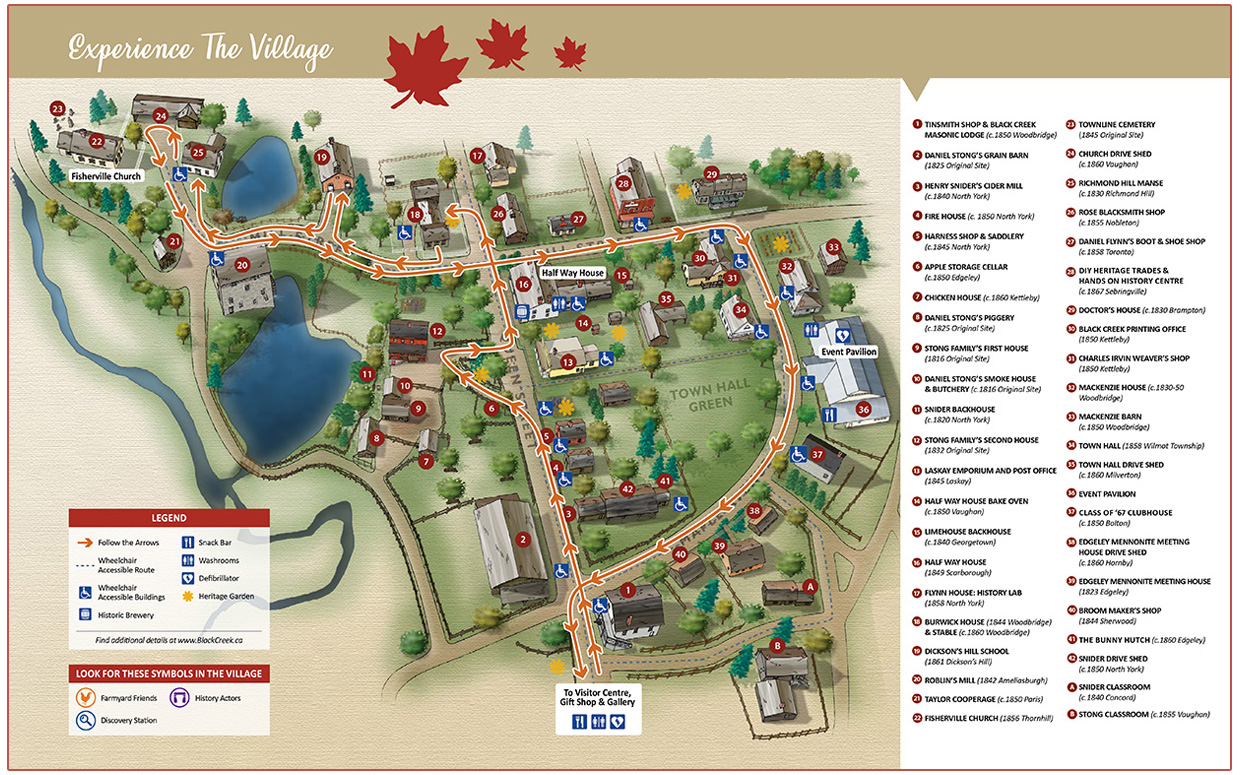 DOWNLOAD A COPY OF THE VILLAGE MAP
The heritage village is quite large. To manage visitor flow, we have created a one-way route that ensures you will have the opportunity to enjoy the entire site. Please follow the arrows on the map.
While on a Guided Family Experience, simply follow your tour leader to the areas you are permitted to visit.
How many people can be inside a heritage building at one time?
Most of our buildings are on the smaller side. Only one family or friend group may enter each building at a time.
If someone is already inside a building, please be patient and wait your turn.
Since Half Way House and Roblin's Mill are larger buildings, they can accommodate two friend or family groups. Please practice physical distancing while inside these buildings.
Most of our buildings have entry and exit doors. Please follow the signs.
Will I meet costumed educators? Will they be in every building?
With the exception of Nature in the Village, all tours and programs are led by costumed educators. You will always meet one or more costumed educators, dressed just like people from the 1860s!
For the safety of our staff, they will not be working in indoor locations.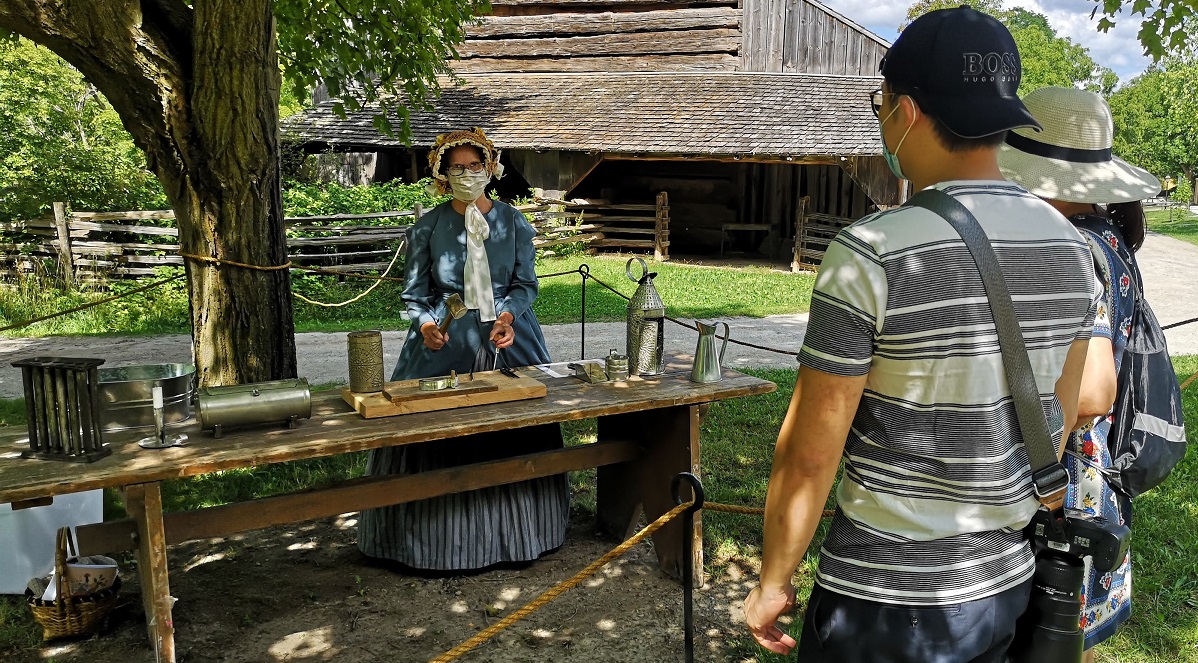 What will I see inside the heritage buildings?
Each heritage building is set up to look as if the residents just stepped out for a few minutes!
You'll see carefully researched room settings that show how people lived and worked in this region in the 1860s. Each room is furnished with actual items used by people more than 150 years ago.
We know that our visitors want to learn interesting facts about the buildings and their histories, so we've introduced brief information panels into many of the buildings, along with a short history of the building or the people who lived in it.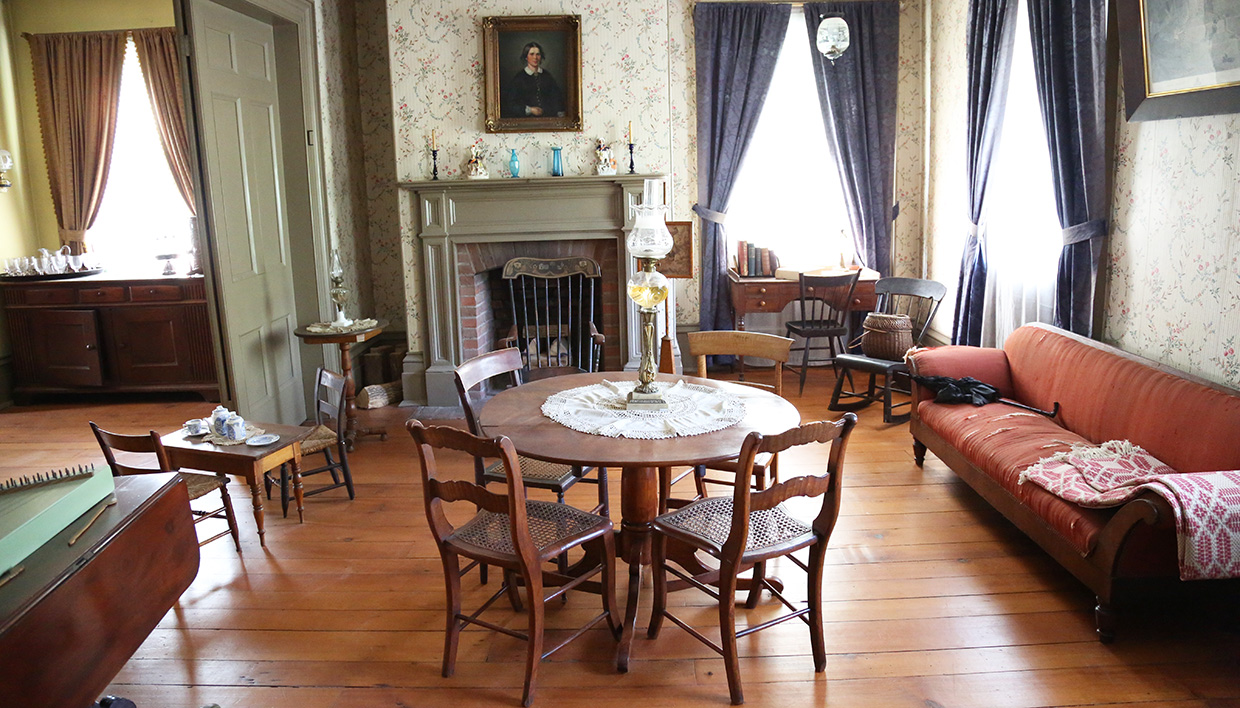 Are there safe activities for my kids to do?
Absolutely!
A costumed educator will engage you and your children in hands-free activities throughout your visit.
For everyone's safety, we have removed all the hands-on activities from our buildings and outside areas. We miss walking on stilts, dressing up, and playing other games too — hopefully, they will return soon.
Please avoid touching or sitting on the furniture in the heritage buildings. These artifacts are very old and are difficult to sanitize.
Have you made changes to the Village? Will it look different?
We have made a few changes to ensure that everyone can enjoy the Village experience safely:
We've placed wayfinding arrows throughout the Village to mark the one-way route.
A few areas of the Village are off-limits, including the second floor in most heritage buildings. There are some buildings where we can't facilitate a safe entry and exit passageway. Safety is our priority!
During planting season, we weren't sure when we would be able to welcome visitors back to the village. As a result, we didn't have the opportunity plant our gardens with the usual array of 19th century vegetables and flowers. Be sure to check out the fragrant herb garden next to the Harness Maker's Shop.
The grass may be a bit longer in some areas than you are used to seeing it. We are focusing our efforts on safety, not grass-cutting. (Long grass is more authentic to the 1800s anyway!)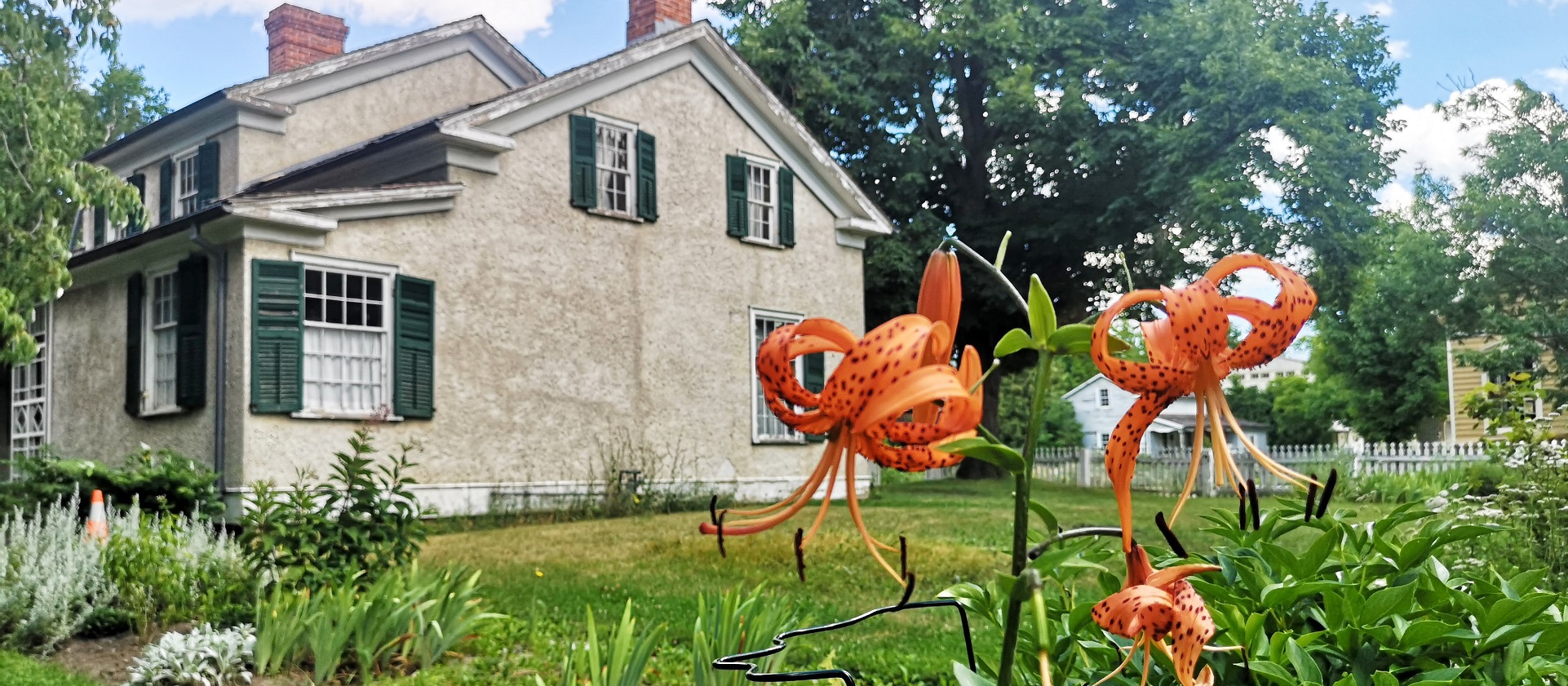 Is the Gift Shop open?
Not yet — but check back soon for upcoming operating hours.
Do you have food or drinks available?
Our food service outlets are closed right now.
Are there water fountains?
Our water fountains are closed. Please plan ahead and bring a bottle of water along for your visit. We have a filling station for water bottles, located near the washrooms in the Pavilion.
Do you have strollers or wheelchairs available?
Please bring your own stroller or wheelchair. We have put ours away for now.
What's new at the Village for 2021?
We have a number of ways for you to experience and enjoy Black Creek Pioneer Village:
Black Creek Pioneer Village has been awarded a #SafeTravels Stamp, which is recognized globally for adopting proper, standardized health and hygiene protocols